Transit & People Mover
As large urban areas deal with traffic congestion, space constraints, and air pollution, they will increasingly turn to "green" electric mass transit systems.  Conductor rails for LRTs ( light rail transit), monorails, and APMs ( automated people movers) must be reliable, long-wearing, and energy efficient, while needing minimal maintenance. Transit operators demand the optimal  conductor bar profiles and layouts to meet specific system operating requirements. They need engineering services, installation assistance, and commissioning oversight. Over time, steel 3rd rail systems will convert to highly conductive stainless steel capped aluminum rails to reduce energy consumption, lower installation costs, and minimize the number of power substations. These "green" rails must provide operating life equivalent to all-steel rails. Innovative PRT (Personal Rapid Transit) concepts need ingenious  conductor rail solutions and technically advanced battery charging systems. Lastly, train operators need power and safe plug-in for vehicles parked in maintenance facilities.
For over six decades, Conductix-Wampfler has built a reputation as the global supplier of choice for "green", energy efficient aluminum/stainless  conductor rail solutions,  contactless charging systems, and train plug-in power solutions. We have the engineering know-how, practical experience, and testing capabilities to be a partner in your success! We offer:

Conductor Rail Systems
Crimped Cap aluminum/stainless profiles from 320 amps to 4500 amps for APMs, PRTs, LRTs, and monorail systems
Welded Cap aluminum/stainless profiles from 4500 to 6000 amps – for 3rd and 4th rail systems
Insulators, collectors, and shoes optimized for the system
Rail Testing
Our fully staffed test facilities, along with extensive field trials, verify transit component designs.  We offer general testing services as well
Our proprietary PRIAS (Power Rail Intelligent Analysis System) diagnostic tool improves system performance by measuring and locating hot spots and inconsistencies in the rails
Stinger Systems – reduce the hazards associated with live plugging of parked trains
A combination of conductor rails, cable festoon systems, drop leads, and connectors supply power for vehicles parked in maintenance facilities
Stingers are customized to the needs of the individual operator; many safety features are offered to prevent unintentional energizing of train circuits and accidental drive-off
Transfer table
Application
Transfer table

Operator
DEPO Brno - železniční seřazovací nádraží (CZ)

Customer
Strojírna Kukleny, s.r.o.

Product
Motorized Cable Reel

Cable
4 x 16 mm2
Relevant Products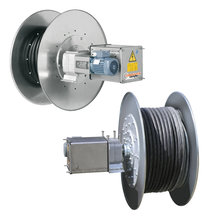 Motor Driven Reels
Compact [C] Series
Additional information
Optimal corrosion protection even in tough environments. Flanges and reel drum are manufactured from hot dip galvanized steel.
Reliable operation with standardized slip ring assembly.
Highly durable, maintenance-free and contactless torque transmission - standard motor with magnetic coupler.
Typical applications:
Gantry cranes
Overhead cranes
Grabs or magnets
Transfer cars
Waste water treatment facilities
Theater stage rigging
Product data
Specifications
Travel speed: up to 100 m/min
Winding length: 200 m max
OD of spool:
- Random wind spool: 400 mm - 1,700 mm
- Monospiral spool or 3-2-3 spool: 1,100 mm - 3,600 mm
Gearbox:
- Type W: 100 Nm - 400 Nm
- Type BNA: 300 Nm - 700 Nm
Slip ring assembly:
- Power max: 690 V – 200 A
- Control & Data max: 500V / 690 V - mA – 25 A
Temperature range: -20 °C - +60 °C
Downloads