Transit & People Mover
As large urban areas deal with traffic congestion, space constraints, and air pollution, they will increasingly turn to "green" electric mass transit systems.  Conductor rails for LRTs ( light rail transit), monorails, and APMs ( automated people movers) must be reliable, long-wearing, and energy efficient, while needing minimal maintenance. Transit operators demand the optimal  conductor bar profiles and layouts to meet specific system operating requirements. They need engineering services, installation assistance, and commissioning oversight. Over time, steel 3rd rail systems will convert to highly conductive stainless steel capped aluminum rails to reduce energy consumption, lower installation costs, and minimize the number of power substations. These "green" rails must provide operating life equivalent to all-steel rails. Innovative PRT (Personal Rapid Transit) concepts need ingenious  conductor rail solutions and technically advanced battery charging systems. Lastly, train operators need power and safe plug-in for vehicles parked in maintenance facilities.
For over six decades, Conductix-Wampfler has built a reputation as the global supplier of choice for "green", energy efficient aluminum/stainless  conductor rail solutions,  contactless charging systems, and train plug-in power solutions. We have the engineering know-how, practical experience, and testing capabilities to be a partner in your success! We offer:

Conductor Rail Systems
Crimped Cap aluminum/stainless profiles from 320 amps to 4500 amps for APMs, PRTs, LRTs, and monorail systems
Welded Cap aluminum/stainless profiles from 4500 to 6000 amps – for 3rd and 4th rail systems
Insulators, collectors, and shoes optimized for the system
Rail Testing
Our fully staffed test facilities, along with extensive field trials, verify transit component designs.  We offer general testing services as well
Our proprietary PRIAS (Power Rail Intelligent Analysis System) diagnostic tool improves system performance by measuring and locating hot spots and inconsistencies in the rails
Stinger Systems – reduce the hazards associated with live plugging of parked trains
A combination of conductor rails, cable festoon systems, drop leads, and connectors supply power for vehicles parked in maintenance facilities
Stingers are customized to the needs of the individual operator; many safety features are offered to prevent unintentional energizing of train circuits and accidental drive-off
Transfer between Main- and Midfieldterminal,
Airport Zürich, Switzerland (subway)
Application
Transfer between Main- and Midfieldterminal, Airport Zürich, Switzerland (subway)

Operator
OTIS Skymetro
Customer
Poma-Otis, France

Product
Conductor Rail, Program 0812

Track length
approx. 2000 m

Travel speed
approx. 40 km/h
Relevant Products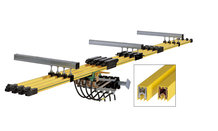 Single PowerLine 0812
Additional information
Single pole conductor rail preferably for straight tracks.
Special features
Available with different rail materials, suitable for most industrial environments
High safety level due to integrated finger-safe design
Easy and exact mountig with multiple hanger clamps for 3, 4 and 5 poles
Unlimited number of poles, designed for complex systems
On-site bending with optional bending device for curves possible
Main applications
EOT cranes
People Movers
Special purpose equipment
Product data
Standard application data
Nominal Current (at 100% duty cycle) [A]: 25 | 200 | 250 | 320 | 400
Voltage Grade [V]: 690 (hand safe array 500 V)
Rail Length [mm]: 4.000 [13.1 ft]
External Dimensions (Pole) [mm]: 18,0 x 26,0 [0.71" x 1.02"]
Operating Conditions: for indoor and weather-protected outdoor applications
Track Configuration: straight / curved elements available
Downloads