Cranes
Lifting and moving of goods is part of almost every production, assembly, or  logistic process. Depending on the size and weight of goods and materials, machines for lifting can be designed very differently. However, they all have vertical and horizontal movements in common. Next to floor mounted transportation and lifting equipment, cranes are the most used material handling equipment for this task. From simple hoists on fixed or swiveling beams, to overhead cranes, to fully automated and dedicated process cranes, the range of crane types is as wide as the kinds of goods that are handled by them – all over the world, every day. Energy and data transmission systems play a crucial role in the safe, reliable, and efficient operation of all types of cranes. Due to the different designs and functionalities of cranes, power supply and data transmission systems need to be very dedicated to fit the exact requirements. Also, the wide range of different environments where cranes operate, such as factories, steel mills, aluminum smelters, scrape cranes, timber mills, and waste-to-energy (WCR) puts very high and specialized demands on energy and data transmission systems.
Conductix-Wampfler is the worldwide leader in electrifying cranes. We offer standardized solutions for all types of cranes and can handle customized needs as well. Conductix-Wampfler offers a large network of Sales and Engineering facilities close to our customers. Local stocks and short lead times on standardized items guarantee the highest possible level of support for our customers.
Conductor Rails – for the runway travel of factory cranes, single pole insulated,  multi pole or  enclosed conductor rail systems have proven to be the most reliable and cost-effective solution. Cross travel on cranes can be handled with  conductor bars as well, using dedicated data transfer systems
Cable Festoon Systems – cross travel on cranes can be equipped with traditional but extremely reliable and durable  festoon systems (motor-driven or none motor-driven)
Energy Guiding Chain – can also manage  cables for the cross travel on cranes as well as for cranes with extendable booms.
Spring-Driven or  Motor-Driven Cable Reels – can manage  cables used in vertical lift applications.
Slip Rings – pass power and control to the moving part of cranes that rotate 360 degrees.
Rubber or Cellular Bumpers – cushion the direct part-to-part impacts of crane elements.
Jay Radio Remote Controls –  offer a safe way of operating or monitoring machines from a distance. The comprehensive range of industrial and safety radio remote controls offers countless solutions to adapt to an extensive number of crane applications.



Hot Metal Process Crane in a Metal Powder Plant
Application
Hot Metal Overhead Crane
Country
Sweden
Project installation date
2017
Representative office
Conductix-Wampfler AB [SE]
Customer
BANG Kransysteme | Germany
Operator
Höganäs Sweden AB | Halmstadt | Sweden
Technical requirement[s]
Energy sypply and data transmission to one overhead crane with Conductor Rails and ProfiDAT®
[ProfiNet data transmission / Real-time data transmission to the crane PLC]
Travel length [Crane bridge]
95 m
Travel speed [Crane bridge]
60 m/min
Crane loading capacity
75 t / 25 t / 6,3 t
Product[s]
• ProfiDAT®, Program 0514
• Aluminum Conductor Rail, Program 0813 SingleFlexLine with standard PVC insulation up to +55 °C
• Aluminum Conductor Rail, Program 0813 SingleFlexLine with PPE insulation for ambient temperatures up to +85 °C
Current Collector
• ProfiDAT® current collector with protective earth carbon brush and data transmission antenna
Additonal product information
• ProfiDAT® for grounding and data transmission
• PPE insulated conductor rail segments are installed in the areas with the highest ambient temperature. Additional steel plates shield the conductor rails and ProfiDAT® profile from the radiation heat
Relevant Products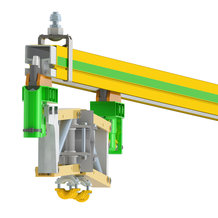 ProfiDAT®
Additional information
ProfiDAT® is a contactless data transfer solution for communication between fixed and mobile control units from Conductix-Wampfler. ProfiDAT® makes it possible to achieve reliable transfer of mixed data (video, audio and real-time control) at very high data rates using Conductix-Wampfler slotted waveguide technology. Data can be safely transferred at rates up to 100 Mbit/s with average latency of only 3ms. The unique configuration of waveguide and mobile antennas results in a system with integrated shielding. This isolation means that ProfiDAT® is license free and can safely transfer data, even in the most challenging radio environments (e.g. shipping container terminals).
ProfiDAT® is excellently suited for integration into conductor rail systems because the waveguide profile has been engineered for dual use as the protective earth (PE) conductor rail. This results in a very compact complete system because an additional PE conductor rail is not required. The ProfiDAT® data transfer system can be combined with multiple available Conductix-Wampfler conductor rail systems.
Main Applications
STS Crane (Ship-to-Shore)
RTG/E-RTGTM Crane (Rubber-Tired Gantries/ Electrified Rubber-Tired Gantries)
Process Crane
Key Features
Safe and reliable wireless communication using slotted waveguide technology
Real-time data transfer through prioritization of PROFINET data packets
PROFIsafe compatible
Solutions for expansion joints and separation points
Cost saving through dual use of ProfiDAT® as communication channel and protective earth (PE) conductor rail
Compact and fully integrable into conductor rail systems
Product data
Standard Application Data
Data rate [Mbit/s]:up to 100
Real-time capable: Yes (PROFINET)
Average latency [ms]: 3
Maximum distance (without repeater) [m]: 500
Safe communication: Yes (PROFIsafe)
Dual use as protective earth (PE): Yes
Multiple mobile units in one profile possible: Yes
Profile section length [mm]: 5.000
External dimensions (profile) [mm]: 50 x 56
Suitable for indoor and outdoor applications: Yes
Temperature range [°C]: -25 bis +50
Downloads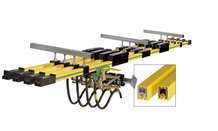 Single PowerLine 0813
Additional information
Single pole conductor rail preferably for straight tracks
Special features
Available with different rail materials, suitable for most industrial environments
High safety level due to integrated finger-safe design
Easy and exact mountig with multiple hanger clamps for 3, 4 and 5 poles
Unlimited number of poles, designed for complex systems
Curved segments available
Main applications
Process and EOT cranes
People movers
Container cranes
Product data
Standard application data
Nominal Current (at 100% duty cycle) [A]: 500 | 800 | 1.000 | 1.250
Voltage Grade [V]: 690
Rail Length [mm]: 5.000 [16.40 ft]
External Dimensions (Pole) [mm]: 32,0 x 42,0 [1.26" x 1.65"]
Operating Conditions: for indoor and weather-protected outdoor applications
Track Configuration: preferably for straight tracks / curved segments available
Downloads